How to Wear a Teardrop Ring for a Stunning Look
To wear a teardrop ring, slide it onto your finger with the point of the teardrop facing toward your wrist. Teardrop rings are a trendy piece of jewelry that can add a touch of elegance to any outfit.
These rings come in various metals, including gold, silver, and rose gold, as well as different stone options. When wearing a teardrop ring, it is essential to choose the correct size to ensure comfort and prevent it from slipping off your finger.
You can pair this ring with other pieces of statement jewelry, such as earrings or bracelets, to complete the look. Whether you're attending a formal event or looking to dress up a casual outfit, a teardrop ring is a versatile accessory that can take your style to the next level.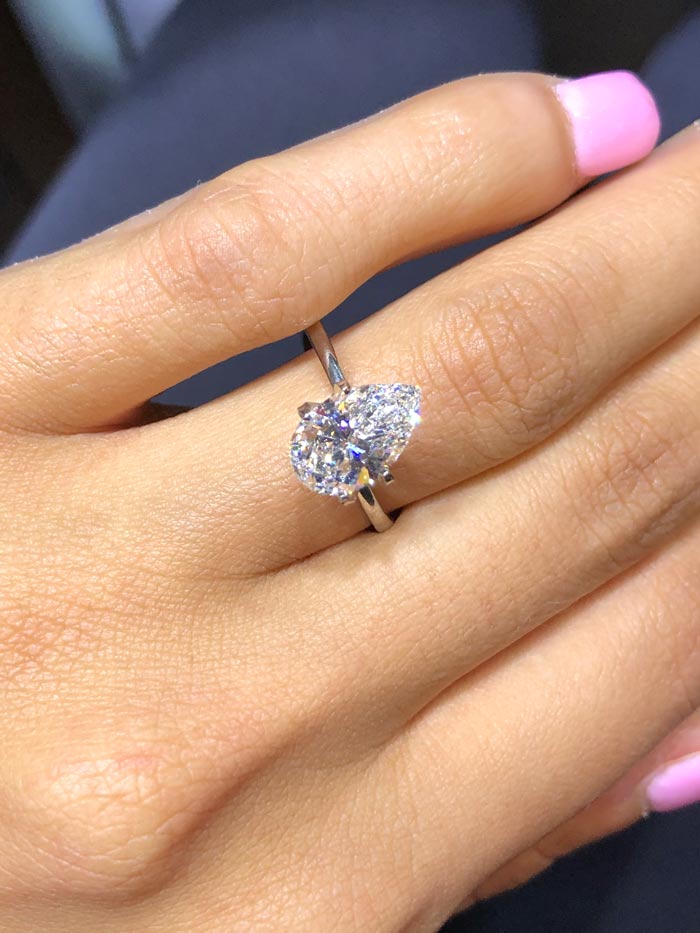 Credit: raymondleejewelers.net
Types Of Teardrop Rings
Teardrop rings have become increasingly trendy and widely popular in recent years. They are stylish, chic, and add a touch of elegance to any outfit. These rings come in various styles, designs, and sizes, making them versatile and suitable for any occasion.
In this blog post, we will delve into the types of teardrop rings and how to style them.
Diamond Teardrop Rings And Their Unique Features
Diamond teardrop rings are the epitome of sophistication and beauty. They are crafted using high-quality materials such as gold, platinum, and white gold. These rings come in different styles, including solitaire, pave, halo, and three-stone. Some characteristics that make diamond teardrop rings unique are:
The diamond's cut is crucial. The cut determines the diamond's fire, sparkle, and brilliance. For the teardrop cut, it is important to consider the length to width ratio. A ratio of 1.75 to 2.25 produces the ideal tear shape.
The setting is also crucial. The setting not only holds the diamond in place but also adds to the ring's appeal. The most popular settings for teardrop rings are prong, bezel, and tension.
Diamond teardrop rings can be complemented with simpler and smaller diamond accessories such as stud earrings and tennis bracelets to create a cohesive and elegant look.
Colored Gemstone Teardrop Rings And How To Style Them
Colored gemstones infused in teardrop rings are perfect for adding a pop of color to any ensemble. These rings come in a wide range of colors, including blue sapphire, green emerald, and red ruby. Here are some tips on how to style colored gemstone teardrop rings.
Contrasting colors: Consider contrasting your ring with an outfit of complementary or contrasting colors. If your ring is blue, for example, consider wearing a yellow or orange outfit to create a color contrast.
Neutral tones: Colored gemstone teardrop rings also look great with a nude, black, or white outfit as they add a pop of color to the understated look.
Stackable rings: You can also pair your colored gemstone teardrop ring with other stackable rings of complementary colors and metals to create an on-trend look.
Pear-Shaped And Marquise-Cut Teardrop Rings And Their Benefits
Pear-shaped and marquise-cut teardrop rings are beautiful, unique, and are known for their elongated and pointed shape. These rings are popular because of their timeless appeal and versatility, making them perfect for any occasion. Some benefits of pear-shaped and marquise-cut teardrop rings are:
A slimming effect: The elongated shape of the pear and marquise-cut teardrop rings helps elongate the fingers, creating a more streamlined and slimming effect.
Versatility: Because of their shape, these rings can be worn with different styles of outfits, from casual to formal. They can also be paired with other rings and are perfect for stacking.
The illusion of a bigger diamond: The elongated shape creates an illusion of a larger diamond, meaning you can have a big impact with a smaller diamond.
Teardrop rings are a timeless and versatile addition to any jewelry collection. Consider your personal style, occasion, and budget when choosing the type of teardrop ring that works best for you. Remember to choose high-quality materials and always aim for the ideal cut to get the most out of your teardrop ring.
Finding The Right Teardrop Ring For Your Style
Teardrop rings are a perfect accessory to add some glamour to any outfit. But with so many different styles and metals, finding the right one can be overwhelming. In this section, we'll provide you with some tips on how to choose the perfect teardrop ring for your personal style.
Matching The Ring To Your Skin Tone And Personal Style
To make sure your teardrop ring complements your skin tone and personal style, consider the following tips:
Skin tone: Determine whether your skin tone is warm or cool. This can help you decide on the metal color for your teardrop ring. If you have warm undertones, opt for rings in gold or rose gold. Cool undertones will suit silver or platinum.
Personal style: Think about the type of jewelry you tend to go for. Do you prefer classic or contemporary styles? Bold and unique or more delicate? This can help you narrow down your options and select a ring that is more your style.
Choosing The Right Metal For Your Teardrop Ring
Once you've narrowed down your options based on your skin tone and personal style, it's important to consider which metal will work best for you. Here are some tips to keep in mind:
Gold: Gold teardrop rings work well with warm undertones and are a classic option that will never go out of style. You can choose from different shades such as yellow, white, or rose gold.
Silver: Another classic option, silver teardrop rings complement cool undertones. They go well with contemporary styles and are perfect for those who want a statement piece without being too bold.
Platinum: Platinum is a very durable metal and has a cooler tone that suits cool undertones. It's an excellent choice for those who want a ring that will withstand everyday wear and tear.
Rose gold: Rose gold teardrop rings are a fashion-forward option with a warm undertone that suits most skin tones. They work well with vintage and contemporary styles.
Considering Ring Size And Band Shape
Once you've chosen the metal for your teardrop ring, don't forget about the size and shape of the ring itself. Here are some tips:
Ring size: Make sure the ring fits comfortably on your finger and that you can move your finger easily. If you're not sure about your ring size, use a ring-sizing chart or visit a jeweler.
Band shape: Consider the shape of the band on the ring. Do you prefer a straight band, or something that tapers towards the teardrop? Both options can look beautiful, but it's important to choose something that feels comfortable to wear.
Finding the perfect teardrop ring for your style requires considering the right metal, ring size, band shape, and matching it to your skin tone and personal style. With these tips, you're sure to find a ring that you'll love to wear for years to come.
How To Style Your Outfit With A Teardrop Ring
Teardrop rings are a stunning accessory to any outfit, but sometimes it can be challenging to know how to style them. Whether you're dressing up or keeping it casual, a teardrop ring can accentuate any outfit. Here are some tips and tricks to help you style your wardrobe with a teardrop ring like a pro.
Dressing Up A Casual Outfit With A Teardrop Ring
Adding a teardrop ring to a casual outfit can enhance the overall look. Here are some ways to dress up your casual look with a teardrop ring:
Pair your teardrop ring with a simple t-shirt and a high-waisted skirt for a chic yet effortless look.
Wear your teardrop ring with a denim jacket and skinny jeans to add a touch of glamour to your casual outfit.
Style your teardrop ring with a flowy sundress, and effortlessly transform your daytime look into an evening outfit.
Matching The Ring To An Elegant Evening Gown
If you're wearing an elegant evening gown for a formal occasion, a teardrop ring can add the finishing touch to your ensemble. Here's how to match your teardrop ring to your evening gown:
Choose a teardrop ring with a stone that complements the color of your evening gown.
Wear the teardrop ring on your right hand if it's a statement piece, to make sure it doesn't compete with your engagement ring.
A simple teardrop ring can add elegance to an already sophisticated outfit, choose whether to layer it with other jewelry carefully.
Using Teardrop Ring As An Accent Piece For Your Wardrobe
A teardrop ring is a great accessory piece that can complement the rest of your wardrobe. Here's our guide:
Use a small teardrop ring as an accent piece to any outfit, whether it's a casual or formal outfit.
If your outfit is already quite busy, choose a teardrop ring without any embellishments to keep the outfit balanced.
Add a teardrop ring to a monochrome outfit to add some vibrancy.
Layer your teardrop ring with a simple necklace to create a cohesive look.
With these tips and tricks, you'll be able to style your teardrop ring effortlessly, whether it's with a casual outfit or an elegant evening gown. Remember to keep it simple and let the ring speak for itself, but most importantly, have fun with it!
Caring For Teardrop Rings
Proper Cleaning And Maintenance Techniques For Your Ring
Your teardrop ring is a valuable piece of jewelry that requires proper care and maintenance. Here are some tips to help keep your ring looking great for years to come:
Clean your ring regularly: Use a soft, lint-free cloth to wipe away dirt, oil, and grime. You can also soak your ring in warm water with a mild soap solution and use a soft-bristled brush to gently clean it.
Avoid harsh chemicals: Harsh chemicals, such as bleach and ammonia, can damage your teardrop ring. Avoid exposing your ring to these substances, as well as to hairspray and perfume.
Remove your ring before engaging in certain activities: Take off your teardrop ring before exercising, doing household chores, or swimming to avoid damaging the ring.
Storing Your Teardrop Ring Safely
When you're not wearing your teardrop ring, it's important to store it properly to prevent damage or loss. Consider following these tips to store your ring safely:
Use a proper storage box: Invest in a box that's specifically designed to store jewelry. Many boxes come with individual compartments and special padding to protect your teardrop ring from scratches.
Keep your ring separate from other jewelry: Avoid placing your teardrop ring in a pile with other jewelry items. This can lead to scratches and damage.
Store your ring in a cool, dry place: Moisture and heat can damage your teardrop ring. Store it in a cool, dry place away from direct sunlight.
Troubleshooting Common Problems With Teardrop Rings
Despite your best efforts, you may encounter some issues with your teardrop ring. Here are some common problems and solutions:
Ring turning your finger green: This can be caused by a reaction between the metal in the ring and the oils in your skin. To prevent this, apply a thin coat of clear nail polish to the inside of the ring.
Ring feeling too loose or tight: This can be caused by changes in your finger size due to weight gain or loss. Consider getting your teardrop ring professionally resized to ensure a comfortable fit.
Scratches on the ring: Unfortunately, scratches are inevitable over time. Consider taking your ring to a professional jeweler for polishing and repair.
By following these tips, you can ensure that your teardrop ring stays in great condition for years to come. Remember to clean your ring regularly, store it safely, and troubleshoot any issues that arise.
Frequently Asked Questions On How To Wear A Teardrop Ring
How Do You Pick The Right Teardrop Ring Size?
When shopping for a teardrop ring, it's essential to pick the right size. To determine the correct size, measure your finger's circumference with a string or paper strip and then compare the measurement to a ring sizing chart.
What Outfit Goes Well With A Teardrop Ring?
Teardrop rings look great with any outfit, but they work best with dresses or simple tops. They add a finishing touch to any outfit and can be worn for both formal or casual events.
What Are The Benefits Of Wearing A Teardrop Ring?
Teardrop rings are versatile and can be worn for any occasion. They add an elegant touch to any outfit and can help you stand out from the crowd. Teardrop rings are also perfect for gifting to friends and loved ones.
Conclusion
As we come to the end of this post, we hope that we've helped you understand how to wear a teardrop ring. Teardrop rings are beautiful and unique pieces of jewelry that can make any outfit stand out. It's important to remember that when wearing them, you should try to keep the focus on the ring itself.
Choose the right finger, consider the occasion, and keep other jewelry minimal. It's all about finding the right balance. With these tips and tricks, you'll be able to wear your teardrop ring with confidence, knowing that you're making a fashion statement that is sure to turn heads.
Whether you're dressing up for a special event or just adding a touch of elegance to your everyday look, a teardrop ring is a timeless addition to any jewelry collection.